Wilbur Hot Springs History
Established in 1865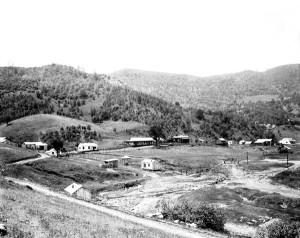 Wilbur Hot Springs' history goes back further than we know. Before European settlers came, the mineral hot springs were used by the Patwin, Pomo, Wintun and Colusi—Native American inhabitants of Northern California's Coast Range mountains. That was soon to change. According to local lore, wealthy congressman General John Bidwell was searching for gold in 1863 when one of his men became critically ill. Local Native Americans told him about a source of powerful curative waters, later to be known as Wilbur Hot Springs. Bidwell brought his man to the waters where he was miraculously cured. General Bidwell went back to San Francisco and Chico (where he owned the best known farm in California) and spread the word of these healing waters.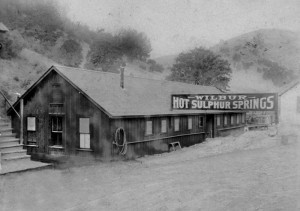 Throughout America in the late 1800s, hot springs were popular among those who could afford to travel to and stay at fashionable hot springs. Often the journey was long and arduous, requiring travel by boat, train, and stage coach.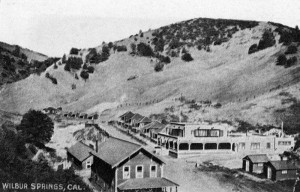 European settlers were attracted to the Wilbur Hot Springs area because of the minerals found in the land—initially copper, sulfur, and quicksilver, and later gold. In 1863, Ezekial Wilbur and Edwin Howell purchased a 640-acre ranch for $1,500. Formed to mine copper along Sulphur Creek, their partnership was soon disbanded when copper ore proved difficult to treat and decreased in value. Within eight months, Wilbur purchased Howell's share of the property for $200, built a wood-frame hotel and announced the opening of Wilbur Hot Sulphur Springs in 1865.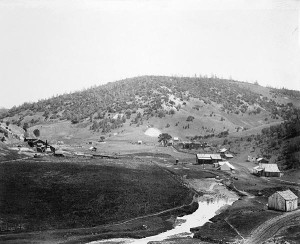 Later that year, Wilbur Hot Sulphur Springs was sold to Marcus Marcuse of Marysville. Meanwhile, the reputation of the "miraculous cures" of Sulphur Creek continued to grow. By the 1880s, the European-style health resort reached its heyday. Wilbur Springs was known for its scalding hot water springs "unexcelled for certain diseases" that boiled up over an area of 100 square feet. To get there, guests would travel on the Southern Pacific Railroad to Williams, then travel 22 miles to the springs, a four-hour trip by stagecoach.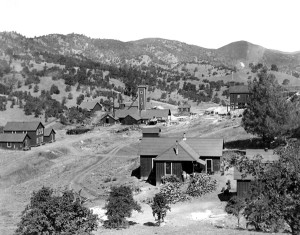 By 1891, however, Wilbur's fortunes were in decline due to an absentee owner and a better hotel at Sulphur Creek Village. A mile down the road, Sulphur Creek featured a resort and gold mining village. With its ramshackle Fluminariums and neglected cabins, there was "no hotel worthy of the name" at Wilbur. In 1909, the place became a U.S. Post Office (in service until 1945) and was used as a way-station for the local stagecoach. In 1915, the decrepit cabins were razed and Wilbur's then-owner, J.W. Cuthbert, built the existing concrete hotel, which was one of the first poured concrete buildings in California. Through the decades, the property continued to change hands, first to the Barker Family and then to the Sutcliff Family.
Wilbur's Recent Past
Dr. Richard Miller
In the 1970s, Dr. Richard Louis Miller became associated with Wilbur. Dr. Miller was a San Francisco psychologist who had left teaching at the University of Michigan in order to study in California with Virginia Satir, the founder of family therapy, and with Fritz Perls, the originator of Gestalt Therapy. Since the late 1960's, Miller had operated a clinic in San Francisco known as the Gestalt Institute for Multiple Psychotherapy. Wanting to relocate his practice to the country to develop a consciousness-raising community, he believed intensive psychotherapy in a residential setting would be more effective than short, timed sessions.
In 1972, Miller came across Wilbur Hot Springs, which was in terrible shape, badly vandalized and littered everywhere with junk. Rusting vehicles and dilapidated buildings were scattered around the property, including the decrepit hotel and Fluminarium.
Miller rented the Red House next door to the hotel and began to live at Wilbur on weekends, where he later rented the hotel for psychology seminars. To address the herculean task of cleaning up the property, Miller led free Esalen workshops in exchange for two hours' work per day. The barter system proved effective in cleaning up the hotel area so that it could then be fully restored. In addition, the hotel was enlarged with a second floor bunkhouse and a new third floor. Later, an eight-unit passive solar building known as the Solar Lodge was built into the hill above the hotel to house staff and guests alike.
Miller's relationship with Wilbur was about to become more permanent; after the Sheriff nailed a foreclosure notice on the front door, Miller attended the foreclosure auction and won the bid for the property. Soon after, Miller and his partner, Kathleen Lawson, moved to Wilbur full time, where they lived for seven years and gave birth to their daughter Sarana in 1975. Sarana leads yoga retreats at Wilbur five times a year.
Miller opened the historic Hot Springs to the public in 1974. Some years later, he implemented his vision to work with his patients in the country. In 1981, he started Cokenders Alcohol and Drug program, closing the hotel for one week a month to hold this pioneering, non-institutional treatment program. The program ran until 1990, during which time Dr. Miller detoxified 1,500 seriously addicted, chemically dependent patients using Wilbur's natural ambience and hot springs waters as detoxifying agents. Not one patient required medication or hospitalization during their treatment.
In 1999 Dr. Miller bought the adjoining valley consisting of 1,560 acres which had been used for hunting. He placed a conservation easement on the property, thereby limiting development in perpetuity. As a result, Wilbur Hot Springs now has its own nature preserve.
On March 29, 2014 Wilbur's historic hotel experienced a devastating fire, destroying 21 bedrooms on the top two floors of the hotel. Thankfully, no one was injured in the fire.
Wilbur reopened to guests six weeks after the fire and operations continued while restoration of the hotel progressed for nine months. The restored historic 1910 hotel reopened in time for New Year's Eve 2014. New guest cabins were completed and opened the weekend of January 23, 2015 in time for Wilbur's 150th anniversary.
Transitions
In July of 2019, Robbie and Jessy Kate Schingler, along with Creon Levit and Will Marshall, came to Wilbur to celebrate Will's birthday, and fell in love with the property. Based in San Francisco, and space scientists by trade, they began discussions with Dr. Miller to purchase Wilbur Hot Springs, and on Valentine's Day, February 14, 2020, after 48 years, Dr. Miller passed the baton of stewardship to Robbie, Jessy Kate, Will and Creon.
Today, there are several generations of guests who consider Wilbur their personal sanctuary, restorative retreat, and home away from home. They come back time and time again to experience the soothing medicinal mineral waters that have rejuvenated body, mind, and spirit for centuries.